Participant observation
From 2010 to 2017, I did participant observation during numerous of these activities in various former working-class neighborhoods in post-industrial Amsterdam-North. I would like to share the example of one art project that wanted to stimulate processes of mutual understanding between people with different backgrounds. An artist collective went round in different neighborhoods to meet local residents and learn about their ways of living. On the basis of their experiences the artists designed interactive theater plays in the neighborhood that could be visited by everyone, in order to "open up the neighborhood" and to "increase contact and intimacy" among neighbors and strangers.
Perspectives of freedom
One of the involved neighborhoods is a very stigmatized area. In the early 20th century it was a gated neighborhood where urban citizens who were considered to be antisocial by the authorities had to learn how to live a decent life. This resulted in a stigmatized neighborhood that until today is being called 'the bush' by the inhabitants of the larger area. During one of the performances of the artist collective we were in this neighborhood and one artist started the interactive play with a question for the audience that mainly consisted of outsiders and highly-educated people: "where do you feel yourself most free?". Then, the artist explained that she fell in love with the neighborhood because its inhabitants had learned to make themselves free. She gave the example of one resident in particular, whom she had interviewed several times. He used to work at one of Amsterdam-North's former shipyards. The man was illiterate but recently, he had learned to read and write. The artist said that he became in control of his own life, which could give a feeling of freedom. She implicated, that one can make choices about how to live one's life and asked the people in the audience, whether they felt they were in control of their own lives. However, during the short play about his life, the resident constantly made clear that the working class life he lived was very demanding and leading to a lot of domestic conflict.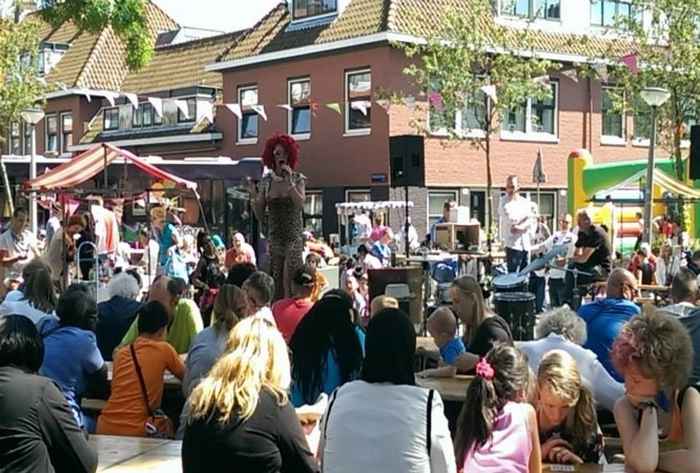 Societal power structures
This example represents many issues that were crucial in the different neighborhood-projects I followed. An important issue is that the history of this and other working-class neighborhoods clearly shows how people have not been free, at least not in the sense of individual choice and lifestyle, and have been shaped by societal power structures. In line with the policies of regeneration, there is an assumption that external interventions by one group in the affairs of another is necessary to stimulate mutual understanding and upward mobility.
Benefit of bottom-up
Yet, the long-term residents stressed that they have been improving the neighborhood and built a community since a long time. To them the question is, why policy makers and politicians are speaking about participation and solidarity while that is exactly what they feel they have been doing their whole life. Instead, they stress that newcomers in their neighborhood, including artists and cultural entrepreneurs – who they call 'yuppie' – are antisocial and intolerant as they do not have time to be present in the neighborhood as they need to work in order to pay the mortgage. However, at times, there appeared to be some form of mutual recognition about wounds of the past that need to be healed in the present. There is a shared sense of common sensibilities that does not override but coexist with ongoing diversity of perspective and practice. This was based on an openness across difference rather than through the celebration of difference. It is one of the many small examples of how top-down pastoral policies could benefit from bottom-up experiences and life-stories.
Linda van de Kamp
Linda van de Kamp is a cultural anthropologist and based at the department of Sociology at the University of Amsterdam. She is currently involved in a research project on the role of culture in urban regeneration.