April 5th, 2023 - Despite strict lockdown measures, the Peruvian government permitted the real estate sector to continue with high-rise construction. We questioned the emotional distress that the construction of new buildings generated in residents of adjacent housing and reflected on how the discomfort and impacts caused by the constructions led to a sense of loss of place and un-homing that could be seen as a form of symbolic displacement in the context of new-build gentrification.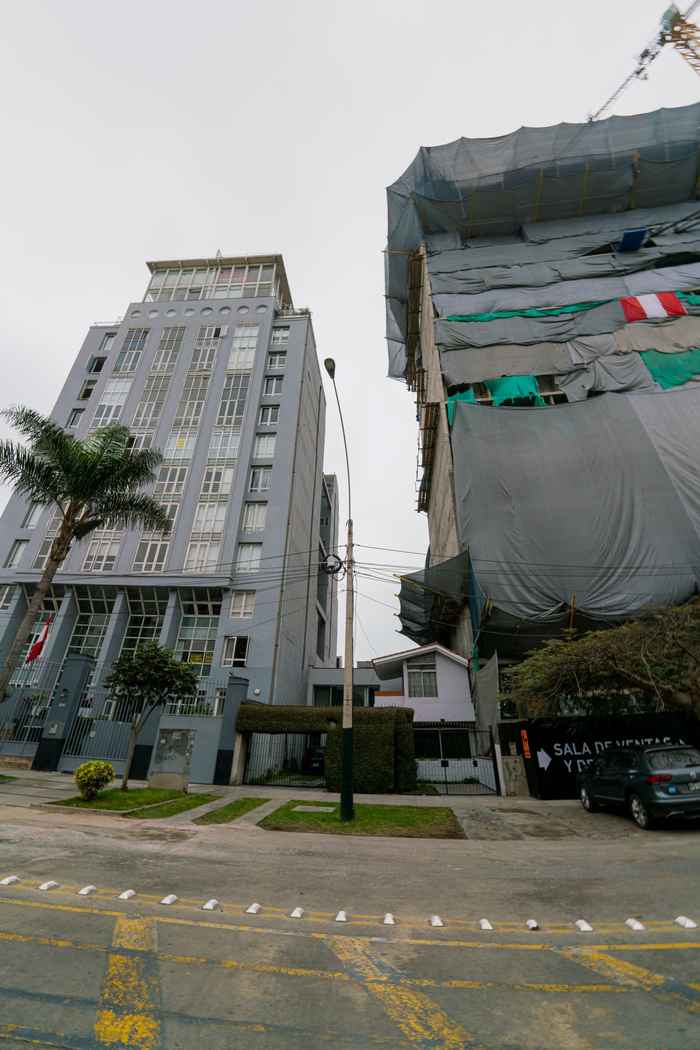 As part of the Seed Grant, we undertook several activities to investigate the socio-spatial effects of the real estate boom on Barranco and Lince, two central neighborhoods in Lima. Our fieldwork followed a qualitative-ethnographic approach, which involved conducting interviews with affected neighbors, activists, members of neighborhood organizations, local authorities, apartment owners and officials of real estate companies. We also reviewed documents such as regulations, photographs of impacts, and letters between residents and real estate companies. In addition, we mapped real estate projects developed during the confinement using Peruvian real estate search portals (A donde vivir and Urbania), walking tours with neighbors, and construction permits issued by local governments.
As part of our project, we organized a virtual workshop titled 'Urban Transformations and New Challenges After the COVID-19 Pandemic in Amsterdam and Lima'. The workshop was divided into three roundtables on urban restructuring, urban centralities, and informality of housing and work before and after the pandemic. The roundtables were moderated by Dr. Wouter van Gent (University of Amsterdam), Dr. Paola Moschella (Pontifical Catholic University of Peru), and Dr. Julio Calderón (University of San Marcos, Peru), and focused on questions such as: how does the role of the state influence urban experiences in Amsterdam and Lima? What can researchers in both cities learn from each other's experiences in the theoretical formulation of urban dynamics? The workshop featured 10 presentations by academics and attracted 40 attendees from Europe and Latin America."
Our fieldwork led us to write an academic article that contributes to the ongoing debates on 'new build gentrification', which refers to the construction of new high-rise buildings for middle-class consumers. We argue that this type of gentrification has become increasingly common in Latin American cities like Lima, but its impact on long-term residents during the construction process has been largely overlooked. Our focus on the construction process help us to reveal the disruptions on the daily activities of nearby residents due to factors such as noise pollution, dust, and traffic congestion.
Authors:
Kelly Gómez (INCITU, Pontifical Catholic University of Peru)
Mirtha Lorena del Castillo (CUS, Cedla, University of Amsterdam)
As a result, residents experience a range of emotions, including concern about unexpected expenses related to repairs or cleanup caused by construction damage to their homes, frustration with the inadequate implementation of damage prevention measures, fear of negative developments that could affect their daily lives and physical safety, annoyance at the disparity between their expectations and the reality of what is happening, and bureaucratic suffering due to the authorities' lack of responsiveness to complaints. Through our work, we shed light on the experiences of long-term residents who are often neglected in discussions of new build gentrification. We argue that their perspectives should be taken into account in future studies and policy-making.
These findings suggest that it is crucial to expand the conceptual boundaries of (new build) gentrification to include the experiences of long-term residents during the construction processes. By showing the emotional suffering of residents, our study has highlighted the importance of investigating gentrification beyond quantitative data and focusing instead on its ongoing impact on the mental health and lifestyle of people who remain in gentrified areas.
We observed that the Covid-19 pandemic has exacerbated these problems faced by long-term residents during construction activities. Confinement measures implemented in Lima to control the spread of the virus forced residents to remain in their homes while they endure the impacts of construction, without offering them alternatives to escape. The Seed Grant provided us with the resources and support to explore the impact of Covid-19 pandemic on such urban development processes.
This work is particularly relevant to members of the Centre for Urban Studies, as it highlights the importance of taking into account the lived experiences of residents in debates about gentrification, not only in Europe but also in the variegated contexts of Latin America. It also underlines the need for stronger policies to prevent the loss of the emotional ties that residents build with their neighbourhoods through their homes. In other words, this research can be an example of the importance to implement necessary measures to ensure a less disruptive process in high-rise construction projects.